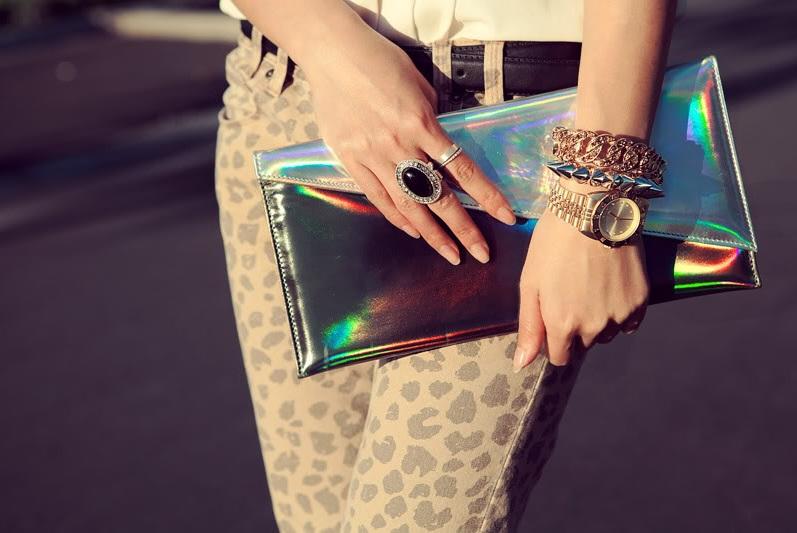 Yine pırıl pırıl bir yazıyla karşınızdayım. Moda tasarımcıları bu yıl bize parlamaktan başka bir şans bırakmadı gibi görünüyor. Daha önceki yazılarımda da bahsettiğim;
pullu kıyafetler
,
pullu tırnaklar
dan sonra şimdi de sıra 2013 yılında çokça karşılaşacağımız hologram trendinde.
I am here with a sparkling post again. It seems like desingners have left us another chance to shine on. After my other posts sequined dresses and sequined nails, now it's time for hologram trend that will be so popular in 2013.
Kullanması bir o kadar riskli ve zor olan bu fütüristik trend, moda haftalarında Bluemarin, Burberry, Hugo Boss, Hussein Chalayan, Stella McCartney ve bir çok marka tarafından kullanılarak bize yükşelişini bildirdi.
This futuristic trend, which is quite hard to use and risky, reported in fashion weeks that it will be uptrend in next seasons. The trend used in spring summer collections by brands like Bluemarin, Burberry, Hugo Boss, Hussein Chalayan and Stella McCartney.
Eğer çok beğenip giymeye cesaret edemiyorsanız, mutlaka bir tane holografik aksesuar edinin çünkü hologram trendine aksesuarlarda da sıkça rastlayacağız. Açıkçası ben aksesuarlarda kullanmayı daha çok seviyorum. Çok sade bir kıyafetle kullandığımız holografik bir clutch ve ya ayakkabı şık, modern ve trendy görünmenize yardımcı olacaktır.
If you really like this trend but hardly decide to use, I recommend you to buy a holographic accessory because we will see this trend also in accessories. I prefer holographic accessories actually. Combining a hologram clutch or shoes with a simple dress help you to look stylish, modern and trendy.
Bu trendi tabi ki tırnaklarınızda da uygulayabilirsiniz. Işıldamaya hazır olun bayanlar, 2013 çok iddialı geçecek!
It can be used on your nails of course. Be ready to shine on ladies, 2013 will be so swanky!